I think that most people know of Hyundai because of the Hyundai Sonata – don't you think so? This is the model that shows people like you and me that they're cars are not only affordable, but they're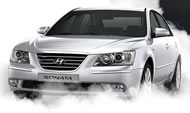 reliable as well. Just like other mid-size sedans, the Sonata comes with features like front-wheel drive and more than enough safety features.
No matter when it comes out, the Sonata Hub Caps and just the Sonata in general has been getting better and better as time goes on. The 2011 model was completely redesigned and is now categorized as a full-size car under the EPA. If it were up to me, I'd get all the features and the OE Sonata Hub Caps to go on it.
What would you choose?
Mykalanne.