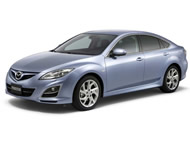 I think that out of all the midsize sedans in the market, this is the one that is most appealing. It doesn't even look like one ! It looks like a sports car with eye-catching Mazda 6 Hubcaps on it. According to Edmunds.com, the Mazda 6 has something everything else doesn't: charisma.
I think that people are so attracted to the car with the Factory Mazda 6 Hubcaps because of the way that they feel when they drive it; they get somewhat of a light and graceful feel – it just makes me wish my 4 Runner drove like that. When the second generation came out, they didn't do too much to it because they knew how much people liked the first generation. It honestly all depends on what you want, you can either go for the first generation or the second one. Either way, they're both amazing and they both have outstanding Mazda 6 Hubcaps .
Which generation do you want?
Mykalanne.