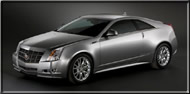 I'm pretty sure we know that the different Cadillac Wheel Covers and Cadillac body styles made an impact on the way manufacturers make their cars, but they had way more of an impact than just the way it looks.
Ever since they were first founded, Cadillac aimed for precision engineering and stylish luxury finish. All of this hard work eventually paid off and caused them to be ranked amongst the finest in the US.
Now you know why Cadillac Hubcaps are so durable and so nice, they were made like that from the very beginning! Don't forget to call us to order that set of OEM Cadillac Hubcaps that you're looking for.
What contributions have you made?
Mykalanne.