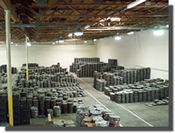 Hello and welcome to the Hubcaps.com Blog. My name is April and I want to spread the word about hubcaps and wheelcovers.
Are you missing a hubcap? Hubcaps.com is the home of over one million hubcaps, center caps and wheel covers. Our business is factory original hubcaps and wheelcovers. It's what we do and we do it all day, everyday. This blog will highlight all the aspects of our hubcap business.
Our online catalog is extensive. Our site lists 48 different makes of vehicles. For every model vehicle we list, we list each model that we carry hubcaps for. We have done huge amounts of research for these hubcaps and I'm sure you'll be impressed by the hubcap knowledge included in these pages. Please visit www.hubcaps.com and stroll through the site. Our employees are always available for any questions you might have.
If you're in the area (Chino, Southern California) stop by and see if we have what you need. Feel free to give us a call here at 800-826-5880 or 909-597-2600 and we'll be more than happy to help you.
April
Hubcaps.com