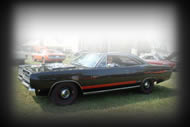 We have so many Plymouth Hubcaps ready to go, all you have to do is go online and click the "Order Now" button!
A few years back, we sold a pair of Classic OE Plymouth Hub Caps to a man named David and his wife for their 1968 GTX – they said that they could not be more happy with the OEM hubcaps that we sent them.
They put them on their vehicle and then showed them off at a car show that they did in 2009. In the email that he sent us, it says that their hubcaps still look like new! Don't believe me? Here, I'll show you:
"The caps we bought from you were and still are beautiful. Thanks for the good work and use us for positive feedback any time."
Told you,
Mykalanne.