Potholes are the worst enemy for Impreza Hubcaps – trust me.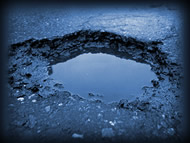 A pothole is also called a chuckhole and they're categorized as some sort of defect in the road that's usually caused by things like heat, ice, and even rain. All of the natural forces will eat away at the asphalt that's used in roads. This is what causes it to crack.
As the cracks start to grow deeper, that's more trouble for your Impreza Wheel Covers and it even means that huge chunks of the pavement material start to separate – more separation, more potholes. Hopefully you don't hit a pothole & lose one of your hubcaps .. but if you do, you can always give us a call at 800) 826 5880 & we'll gladly replace it for you. We won't even charge you shipping!
Watch out for them!
Mykalanne.