Even though we all know that Pontiac had suffered that whole bankruptcy thing with GM, their G6 with G6 Hubcaps was the company's go-to midsize car. The car had offered consumers unusually tactful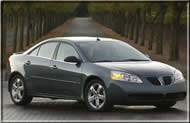 styling by Pontiac standards, solid performance from its V6 engines, and the availability of a four-seat retractable-hardtop convertible body style.
Unlike the Grand Am (which was the car it replaced), the G6 & G6 Hub Caps was favored over the typical rental car. I guess you can say that the car is still appealing to people who are looking for good-used cars, especially because it has that pricing that everyone's looking for.
GM has said that they will continue to support the Pontiac products in its service departments, so buying a used G6 isn't necessarily a bad idea. Buying the hubcaps that go on it from Hubcaps.com isn't a bad idea either. We'll be waiting for your call!
So, are you thinking about buying it?
Mykalanne.