You're probably wondering how these two things relate to each other. You probably didn't even know that BMW Wheel Covers & the environment had a connection until you read this blog, right? Well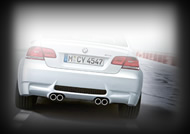 keep reading so you can find out more!
The BMW company is big member of a little something called the U.S. Environmental Protection Agency's (EPA) National Environmental Achievement Track. This is a division that is made to recognize all of the different companies for their environmental stewardship and performance. If you haven't guessed, the BMW Hubcaps & the different BMW Cars have been recognized by this company more than once.
Little did you know that the BMW Caps that you buy from Hubcaps.com are part of something that's good for the world. We didn't know either .. but we're glad to help!
Hmm,
Mykalanne.