Do you know how your Original Cadillac Hubcaps relate to GM? GM bought the company in 1909! If you had no idea, then we'll have to talk later. I might need to catch you up on some more things.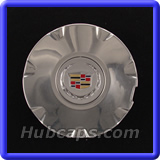 When it was bought, Cadillac became the prestige & luxury division of GM. It was even GM's automatic marque for a little something called "commercial chassis" institutional vehicles. These vehicles included limousines, ambulances, hearses, and funeral home flower cars. I'm pretty sure they had OEM Cadillac Center Caps on them .. but don't take my word for granted.
If you're in the market for a set of those center caps, why not give Hubcaps.com a call to see if we have it in stock or not. We promise to give you a good deal!
Talk to you soon!
Mykalanne.