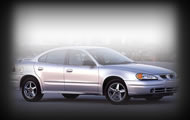 When I first heard of this car, I thought the car & the Grand Am Wheel Covers were part of a NASCAR series or something – it sounds like it would be. Even though the car is kind of old since it popped into the market during the 1970s, it's the type of sedan that most families are going for.
If you were looking at the whole Pontiac lineup, you'd find that the G6 with Hubcaps is the sedan that's "over-styled" and the car that most people are familiar with. I'm sure when you see it on the street, you'd know what it is; but when you hear the name, you can't really identify which one it is .. or is that just me?
The car enticed consumers with its attractive price, just enough space for four average-sized adults, and four-cylinder or V6 power .. not to mention the fabulous looking Grand Am Hubcaps that came standard on the car. If you didn't get them when you bought the car, Hubcaps.com should have them for you. All you have to do is give us a call!
It's a car that I'd want,
Mykalanne.