General Motors is a big brand, right? Did you know that Buick & the Original Buick Hubcaps are part of a luxury brand that GM makes for their drivers? Now you know. I was kind of surprised when I first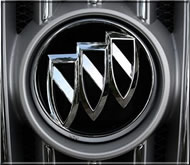 read it, too .. so I guess we're kind of in the same boat with this. We may not be in the same ocean, but we're in the same type of boat. Does that make sense?
The different Buick models & OEM Buick Wheel Covers that go on those models are sold in the United States, Canada, Mexico, China, Taiwan, and Israel – China is actually the company's biggest market. This would make the most sense since they're population is bigger than the one here in the United States. The Buick models are so old and so classic that Buick is considered to be the oldest Active American make. Can you imagine how much it is to buy one of their classic models?
There are of course some Buick models that are shared with GM's German Opel subsidiary .. but it doesn't really mean that much to me considering I live here in the US. If you need hubcaps for these classic cars – whether they're new or old – don't forget to give us a call. 800) 826 5880. We promise to sell them to you at the best possible price.
Have a good day,
Mykalanne.