Hub Cap Shop and Online Store + Site - Hubcaps.com
Visit
Hubcaps
on YouTube and give us a "Thumbs Up"
Hub Cap Shop Video Tour of Our Store - Hubcaps.com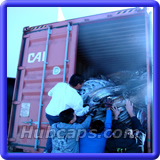 The Hubcaps.com buyers are on the road all over the United States several times each year and they bring back an average of 10,000 center caps & wheel covers on each trip. Our team hand picks wheel caps ranging from the 1940's to 2012 year models and once chosen, they are trucked in or sent back by train, then carefully unloaded into our 35,000 square foot hub cap store!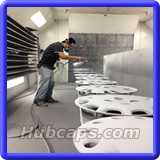 When one of our hubcaps is ordered, the process that it goes through is rigorous! Each wheel cover is carefully inspected to ensure that it is structurally perfect and only then is it sanded, polished and refinished to its former glory. Our "State of the Art" online hub cap shop is equipped with modern tools and equipment that guarantee that perfect finish every time. This machinery is manned by trained professionals with years of experience. Every order is safe in our capable hands!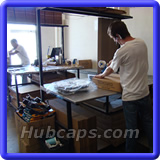 We re-inspect each wheel cap before shipping to make sure you receive exactly what you ordered from our hubcap site, in like new condition. We then carefully package your cover to insure safe (and FREE within the Contiguous US!) delivery to your home or business.